Please note the shopping buttons have been removed while Gena recuperates from her surgery. For more information please read the News page.
Ring Tool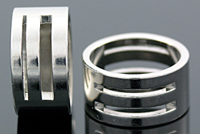 Machined stainless steel ring tool. This has 4 different sized slots to accomodate a variety of ring sizes. The largest slot can accept 14 gauge rings. The ring measures size 5 1/2 and only comes in this one size.
This is a wonderful tool to use to open a lot of rings quickly! Another thing I really like about this nifty little tool is that if you are holding a weave in your hand and you just need a few more rings opened to complete the weave but you don't want to put it down, you can have this ring on one of your fingers to open up those last few rings allowing you to still hold on to your weave.